Keeping Home Theater Surround Sound Completely Out of Sight
Beemer Smart Home installed a home theater with invisible speakers from Stealth Acoustics with 11 speakers in a show home and recently updated the LCRs and swapped out the subwoofers for an even more impressive system.
For Beemer Smart Home in the Seattle area, custom integration was more of a side-line business for several years until a project for a client who was an architect as CEO of Beemer led to referral success in high-end residential and high-rise / MDU markets cranked Håkan Olsson remembers.
Olsson, who had a corporate career at Microsoft, started at full throttle in the integration business a few years ago and has used the relationships with architects and builders (and yes to potential customers from the Microsoft world) to further extend the range and solution portfolio of Beemer Smart Home to expand.
Given the strong influence architects have on the potential customers of Beemer Smart Home, it is no surprise that Olsson relies on architectural speakers, and invisible speakers in particular. Olsson spent four years equipping a new home with all kinds of integration technology to be used as a showroom for the Kirkland, Washington-based company, and looked forward to seeing good / better / best invisible speakers from Stealth Acoustics for distributed audio in the present throughout the house.
Musician and sound engineer Audiophile perspective on stealth sound quality
In addition to traditional speakers at home, the range of Stealth Acoustics products enabled Olsson to let customers compare the sound quality of invisible speakers with freestanding speakers. He came to his own conclusion about sound quality five years ago when he first heard Stealth on a visit to the manufacturer's nearby facility in Mount Vernon, Washington.
"I was absolutely blown away by the richness of the midrange," says Olsson, whose audiophile ears and sonic preferences developed long ago from his background as a classical musician and sound engineer in Sweden.
"It's the closest and best I've heard when I compare it to quad electrostatics," which Olsson used for years during his days as a sound engineer. In the meantime, the warmth of the loudspeakers has grabbed him as a listener who loves the sound of acoustic music. "At that point it was the LR6, LR8, and LR3 speakers, and just before we started building the house we wanted to use it as a model home, and after hearing them I decided we'd go for it – partially For the invisibility, but also for the richness of the sound, there is nothing that I would have heard so naturally. "
In addition to the multiroom audio, he used a whole range of stealth speakers to deliver the impressive surround sound in his home theater. The combination of the wow factor and sound quality started selling, says Olsson.
"Before this COVID happened we had a couple, they were 75 years old and they were building a new beautiful house and they wouldn't have a theater," says Olsson of a certain homeowner couple. "But they were interested in music and I took them to the theater … and [after seeing and hearing it] They just looked at each other and said, "OK, we're going to have a theater now!"
And that was before Olsson renovated the theater this year to update the stealth array, which now includes 11 invisible stealth speakers and James Loudspeaker subwoofers:
3 LRX85 speakers as LCR in bi-amp mode (one amplifier for the low frequency panel and one for the high frequency panel)
2 Stealth LR8 as surround speakers
2 Stealth LR6 as back surround speakers
3 Stealth LR6 in the ceiling as Atmos front / rear speakers
2 James Loudspeaker QX1020 subwoofers in the front wall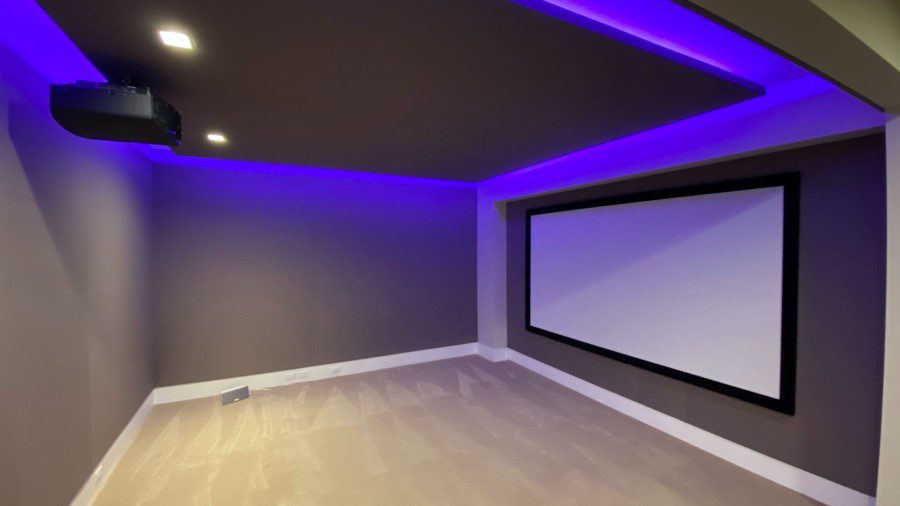 The in-house home theater of Beemer Smart Home CEO Håkan Olsson has a newly designed fake front wall that now houses three Stealth Acoustics LRX85 models and James loudspeaker subwoofers for the wall.
Regarding the installation of the front LCRs, they and the subwoofers sit behind an acoustically transparent screen that is mounted directly on the fabric-covered acoustic panel on the constructed front wall, he explains. The sound treatment panels were specially cut, whereby the loudspeakers are only in front of the acoustically transparent fabric.
Theater enhanced by staple LCR speakers and LED lights
The replacement of the James subwoofers from the original James floor models was one reason for the renovation of the theater. If the rest of the audio was invisible, so should the subwoofers, he notes. The new submarines are in-wall models that have been built into the newly built fake front wall and can also accommodate new LCRs (from LR3 models).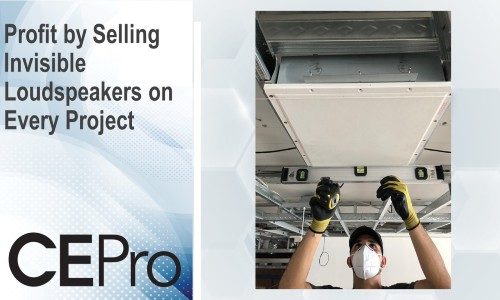 "Stealth brought out this new model, the LRX85, a two-panel solution with midrange and bass in one panel and higher midrange and treble in the smaller panel, which is absolutely amazing," he enthuses. "It takes stealth to the next level of detail and resolution of sound."
Olsson suggests that room acoustic treatments are important when performing a full Stealth Acoustics theater because the speakers have a large 170 degree dispersion. This is a huge benefit to installing invisible speakers for multiroom audio as they help eliminate dead spots but need more taming in home theater settings.
The other recent home theater upgrades, according to Olsson, include Ketra lighting with two D3 lights as downlights above the seats, and 10 foot linear G2 Ketra lighting for the wall wash behind the seats. And above the ceiling bay there are 46 feet of Trulux RBG + TW LED strip lighting. The AV and lighting quality of the room (via Lutron scenes) is controlled via Control4.
In terms of demo content, if Olsson can do the improved theater (taking into account the current COVID situation), his favorite pieces include the Swedish opera singer's appearance in "The Greatest Showman" and "Eric Clapton – Slowhand at 70 Live in the Royal Albert Hall ", which he plays in Kaleidescape.
"From a technical point of view, it's an incredibly well-made recording – and I can say that because I did it as a sound engineer," he laughs at the Clapton concert. "And I can tell you that after upgrading to the LRX85, I've never heard an Eric Clapton acoustic guitar that sounds so real and rich – it's absolutely stunning."