Make-A-Wish Kid Receives Fully Customized Home Theater Thanks to Austin-Based Integrators
It's no secret that integrators are a generous bunch. When a community needs help, housing integrators and manufacturers often step in to help. On their most recently completed project, the ProSource purchasing group and local integration company Macauley Technologies helped coordinate a bespoke theater to be installed in a Make-a-Wish child's home.
The Soup-to-Nut Theater features a wide variety of AV equipment from various ProSource member companies, including Screen Innovations, as well as Origin Acoustics, Control4 / SnapAV, Marantz, Sony Electronics and others. Austin, Texas-based AV integrator Macauley Technologies donated its time and effort to complete the conversion of an existing bonus room into a full-fledged theater in just five days.
"It was an honor and a privilege to be part of such a wonderful organization as the Make-a-Wish Foundation of Central and South Texas. We were able to make a child's dream come true and create a special space that Miles could enjoy with family and friends while he recovered from treatments, "said Jason Russell, vice president, residential sales, Screen Innovations.
Screen Innovations also donated an LED lighting kit so Miles could be fully immersed in TV shows, films, and video games.
"As a Make-a-Wish kid, Miles could have asked for a number of things, but most of all, he wanted a 'movie theater' in this house. We were happy to help ensure that we provided a larger than life projection screen. "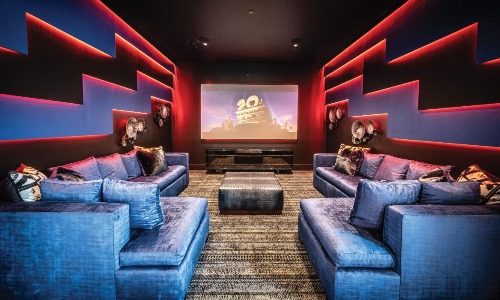 To support the cause, Screen Innovations donated an acoustically transparent 110-inch screen in 16: 9 Zero Edge Pro Slate, which serves as the heart of the theater. The company worked closely with the Macauley Technologies integration team to customize the screen for optimal performance and seamless integration into the room.
"It was a pleasure to work with the Make-a-Wish Foundation on this project and to give something back to our community. They let us do what we do best and make this a special space for Miles to watch all of his favorite movies and play Xbox in a fun, immersive environment rounded off by movie posters, theater seats, popcorn machines and more added Ian Shaw, vice president of business development for Macauley Technologies.